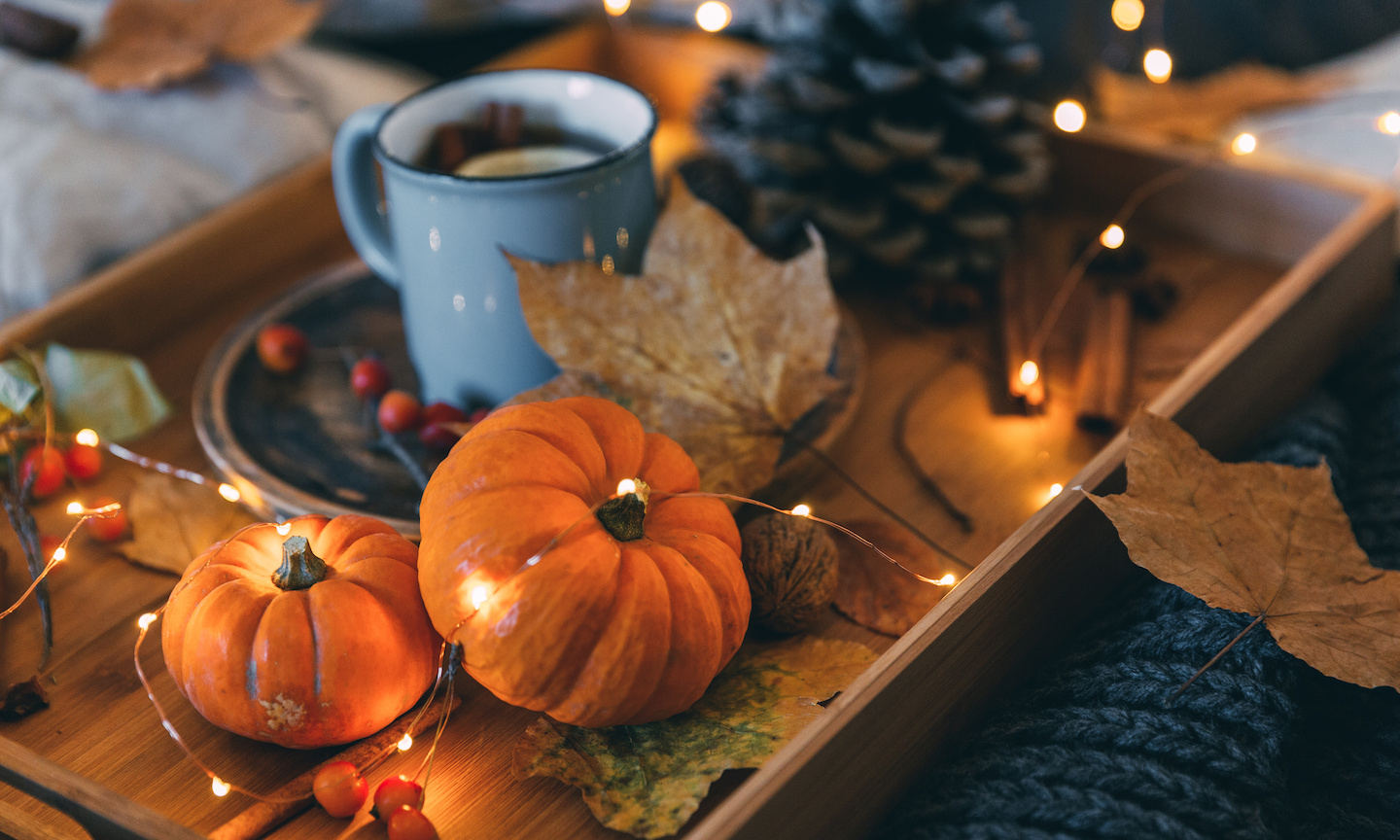 Fall is one of the most beautiful times of the year. The weather gets cooler, the leaves change color, and everyone wants to cozy up inside. Here are some of our favorite tips on how to reflect this wonderful time of year in your fall decorations!
Rustic Elements
A great way to give your house that autumnal feel is by bringing in rustic elements. Add a basket of firewood on the front porch or by the fireplace and use copper mugs, plates, or vases for flowers. Buy some cozy rocking chairs for the front porch so you can sit out and enjoy the cooler weather with loved ones. For a centerpiece, use a glass lantern and fill it with candy corn or acorns and put a matching candle in the center.
Dark Colors
In the fall the color palette shifts from those summery pinks, blues, and corals to darker ones. Try incorporating more jewel-toned colors into your decorations. Change out your mint pillows for burgundy velvet ones and add some dark purple candles on the mantle or trade out lampshades on the side table. You can also add dark neutral colors, a warm chocolate color will go with almost anything.
Creative Pumpkins
Sometimes the same orange jack-o-lanterns can get boring. If you want to change things up, consider decorating with pumpkins in a more unique way. You can paint pumpkins, adding gold stripes or polka dots on white pumpkins and black patterns on orange pumpkins. If you want to get a little sparkly try using glue, stencils, and glitter to add eye-catching leaf patterns on your pumpkins. Or you can always find some pretty fall leaves or foliage in your yard and use ModPodge to add them to your pumpkins. If you don't want to use paint, try adding lace doilies to your pumpkins by cutting a hole in the center for the stem and sliding them on to give them a delicate feel.
Fall fabrics
One thing that's great about fall is the thicker, softer fabrics everywhere. Find old sweaters and cut them up to use as seat cushion covers for your dining room. Incorporate velvet by switching up pillows and cushions for this fuzzier option. Plaid is another fall staple. Find placemats or blankets in orange and red plaids. Houndstooth is another fall fabric, which you can add almost everywhere. Warm colors like caramel, brown, and orange will give your home a welcoming feel, so incorporate these into your decorating whenever possible.
Natural elements
One of the best things about fall is the transformation that happens outdoors, but our favorite outdoor elements don't have to stay outdoors. Autumnal fruits and vegetables such as gourds, pumpkins, apples, and squash can be displayed in bowls, as centerpieces, or on the mantle. Use Indian Corn to make a festive wreath for your front door. Fall flowers such as mums, ranunculus, and pansies in shades of yellow, red, and orange will add some vibrant fall color to any corner of your home, both inside or out. Even sunflowers, dried hydrangeas, and orange roses will also add vibrancy anywhere. Add some faux wheat sheaves into the mix by displaying them on side tables or even on your front door.
It's time to get in the fall spirit. If you're ready to fall in love with your next vehicle, the Hendrick Acura Southpoint team has the perfect vehicle to elevate your automotive style and prepare you for the changes ahead. Contact us today to see what amazing vehicles we have in our showroom.